22/03/2023
Strategic investments in infrastructure
Invest in pavement testing to tackle declining infrastructure and create jobs
The decline of this infrastructure, such as roads and runways, has become a major issue and concern for Congress.
The introduction of sophisticated military equipment (both airborne and ground-based) and the need to update infrastructure to meet operational demands have also compounded the issue.
The United States Army Corps of Engineers
The United States Army Corps of Engineers – Engineer Research & Development Center (ERDC) has been working on addressing this problem by utilizing advanced pavement and structural analysis equipment, such as Smart Concrete Materials and the Heavy Vehicle Simulator from Dynatest.
The Heavy Vehicle Simulator (HVS-A "Big Foot") can perform accelerated pavement testing (APT) and is capable of simulating aircraft wheel loads of up to 440 kN (100 kips) that enables engineers to quickly evaluate the pavement condition to improve material modeling. This equipment is intended to induce failure of the pavement whereby cracking and rutting are the primary failure mechanisms that are monitored.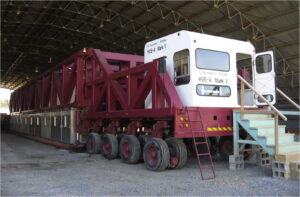 Benefits in several ways  
These tools allow ERDC to develop new materials and technologies that result in faster and more durable construction and rehabilitation of the pavement on highways and runways. The use of geosynthetics and nanotechnology in pavement and infrastructure materials is just one example of the technologies being used by ERDC to improve road and runway conditions.
The benefits of this kind of testing and analysis are twofold;
First, it allows for the identification and prioritization of road improvement projects that will have the most significant impact.
Second, it results in cost savings over time by developing more durable infrastructure that requires less maintenance and repair.
Lobbyist Chase Moseley
Lobbyist Chase Moseley advocates for smart investment in advanced pavement testing to tackle declining infrastructure and create jobs.
According to Lobbyist Chase Moseley, "Investing in advanced pavement testing and analysis equipment is a smart use of limited funds because it can help address the growing problem of declining infrastructure, while also providing a strong return on investment in terms of cost savings, advanced materials, and improved road conditions. 
Additionally, investing in new technology and innovation can also contribute to more durable infrastructure and job creation.
Investing in military infrastructure is vital in uncertain times. The use of advanced pavement testing equipment is a smart way to prioritize spending and address the growing problem of declining infrastructure.
In the future, it will be possible to optimize the way the roads and runways are repaired and built. With that in mind Congressional members can focus, identify, and prioritize their limited funding. Therefore, Congress must act and invest in the advanced testing equipment necessary to build improved and more sustainable roads and runways", says Lobbyist Chase Moseley.